Rise Together Fund
LET US RISE HIGHER
The early days of the COVID-19 pandemic were characterized by uncertainty. Each day brought with it some new obstacle that required our full attention, only to be outdone by whatever obstacle came next. Though much is still unknown, one thing has become abundantly clear: you are our guiding star, and our inspiration for what comes next!
Thank you to everyone who has played a part in supporting us through these difficult times. We have been overwhelmed by your support these past six months, and thanks to these gifts, we have been able to offer some virtual school programming this fall, we will be streaming play readings of the classics you love, and we are planning for a safe reopening. Meanwhile, the pandemic continues to affect our ability to earn revenue, so we are relaunching our Rise Together campaign, which will help us maintain our facilities, offset programmatic costs, and support our staff. We hope to rise higher than ever, and you have shown us how that is possible.
As you know, the Fall is usually when we open our doors; it is also when students normally return to school. When we think of the future of our theatre, we think of our student audiences. As we have seen some of you return as supporters, become new donors, or even go above and beyond, we know it is because you have felt a connection to our art and community. That spark changed your life, and we hope you will help us offer that gift to the next generation as well. Will you support A Noise Within's future with a gift today? Your past support has brought us this far, and you can help us take our next steps.
Thank you from the bottom of our hearts,

Geoff Elliott and Julia Rodriguez-Elliott
Producing Artistic Directors
---
COVID Relief Updates
The economic relief bill is making donating to charities more convenient and encouraged than ever! As part of the new stimulus package set forth by the United States government, you now have the ability to donate up to $300 "above the line" to a nonprofit organization for which you will receive a 100% tax deduction on your 2020 tax return. Whether you itemize your deductions or not, making a cash donation up to $300 under this new bill to A Noise Within will help us support our staff, artists, and keep the local economy running.
If you are considering a donation, please think of the nonprofit organizations that have had to close their doors and cancel programming. If not ANW, someone.
Ways to Give: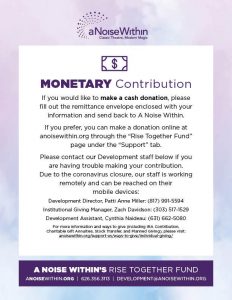 If you would like to make a cash donation, please click the button below to do so online: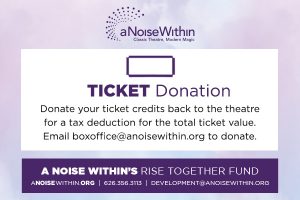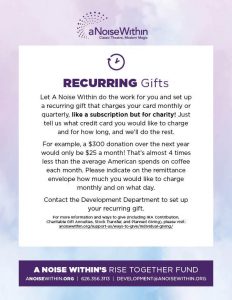 Please contact our Development staff below if you are having trouble making your contribution. Due to the coronavirus closure, our staff is working remotely and can be reached on their mobile devices:
Development Director, Patti Anne Miller: (817) 991-5594
Institutional Giving Manager, Zach Davidson: (303) 517-1529
Development Assistant, Cynthia Naideau: (631) 662-5080