Rafael Goldstein,
Resident Artist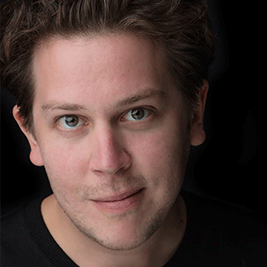 AT A NOISE WITHIN:
2019-2020 Season: Mad Hatter/Tweedle Dee/Caterpillar/Ensemble, Alice in Wonderland; Leontes u/s, The Winter's Tale; Fred/Ensemble, A Christmas Carol; Vince u/s, Buried Child
Previous Seasons: Tim Algood, Noises Off; Tom Wingfield, The Glass Menagerie; Iago u/s, Othello; Fred, A Christmas Carol; Guildenstern, Rosencrantz and Guildenstern Are Dead; Pierre/Rodrick, The Madwoman of Chaillot; Fred/Ensemble, A Christmas Carol; Henry, Henry V; Tim Algood, Noises Off '18; Edgar/Poor Tom, King Lear; Claude de Aria, The Imaginary Invalid; Septimus Hodge, Arcadia; Mercutio, Romeo and Juliet; The Son, Six Characters in Search of an Author; Chris Keller, All My Sons; The Guard, Antigone; Camille Chandebise, A Flea In Her Ear; Mark Antony, Julius Caesar; Sebastian, The Tempest; Valere, Tartuffe. Fred/Young Scrooge, A Christmas Carol; Redpenny/Mr. Danby, The Doctor's Dilemma; Eros, Antony and Cleopatra; Ensemble, Coriolanus; Ensemble, Macbeth.
ELSEWHERE: North Coast Rep: Amadeus; Theatricum Botanicum – Trip, Other Desert Cities; Sacred Fools Theater Company – Roy Baty, Do Androids Dream of Electric Sheep?; Zombie Joe's Underground – Hamlet, Hamlet; Pittsburgh Irish and Classical Theater – Abram, Our Class; La MaMa ETC. – Miser Stevens, The Devil You Know; Playwrights Horizons – Frankenstein's Monster, Monster and Caligula, Caligula; Voices in video games, such as Fallout 4 and The Evil Within 2. Feature films, shorts, and music videos.
EDUCATION: BFA, Theater–Tisch School of the Arts, NYU, Atlantic Theater Company
---
More about Rafael on our Blog:
The King and the Tennis Ball
You Asked, We Answered: Julius Caesar
Our Favorite Moments
IT'S REIGNING MEN: Resident and Guest Artists Make "Noise" This Fall
You Asked, They Answered
Spending Christmas with our Cast!
Our Favorite Moments
The Imaginary Invalid: Becoming Claude
Asked and Answered: Arcadia
Happy Valentine's Day from the cast of King Lear
In the Media:
Once More Unto the Breach: Rafael Goldstein Takes the Crown at A Noise Within, This Stage Magazine
'Henry V' At A Noise Within Stars Pasadena-Area Native, Arcadia Weekly