FlexPass Support
How to Choose Your Seats with Your FlexPass
Thank you so much for becoming a member at A Noise Within. Your support allows us to produce a full season of plays at ANW and we couldn't do what we do without you. We hope you will enjoy the great flexibility your pass allows. Now that you have purchased your pass, here are some tips for choosing your seats or making exchanges.
Go to anoisewithin.org and click the orange GET TICKETS at the top of the home page. The account link will be in the center top of the page, MY ACCOUNT. Click that link and log into your account using your email and the password you set up when purchasing the pass. If you didn't set up a password when you first purchased or don't remember your password, look at our password reset instructions here or contact the box office at 626.356.3121 and we can set a password up for you.

Once you are in your account (your name will be at the top of the page), click BUY then choose your show and date.

Once you are on the seating chart page, click the first seat that you want. A window will open and offer various price points. One will be FlexPass $0. That is what you will want to choose. Go ahead and choose any additional seats you might want. (If the date is a date outside your pass – i.e. FlexPass Preview or FlexPass Select – the price might say FlexPass upgrade $10 or $20, which will just be the difference in price).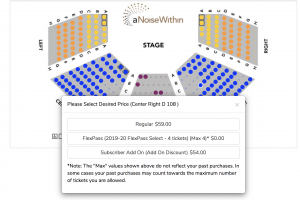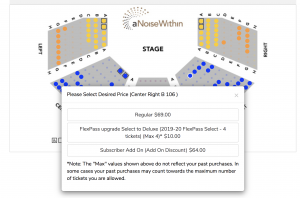 Once you have all the tickets you want, click ADD TO ORDER. You will be taken to your shopping cart, where you can choose a delivery method. We recommend WILL CALL or EMAIL-PRINT AT HOME. With the email option, you don't have to print at home. You can just bring the order in on your phone and we can scan the ticket from there.

If at any point along the way, you have a question or a problem, please email boxoffice@anoisewithin.org or call us at 626.356.3121 and we can troubleshoot. If you don't see the FlexPass option, it means you are not logged into your pass account or that you have inadvertently created duplicate accounts. We can help you with that as well.
Enjoy!