Amir Abdullah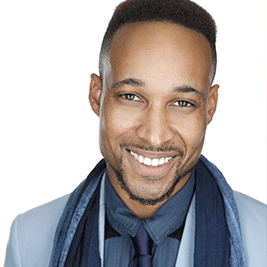 AT A NOISE WITHIN:
2017/18 Season: Joseph Asagai, A Raisin in the Sun
Previous Seasons: Paris, Romeo and Juliet.
ELSEWHERE: In Los Angeles: The Geffen Playhouse, Skylight Theatre Company, VS Theatre, Theatre Banshee, New American Theatre. Most recently as Peter in Les Blancs at Rogue Machine Theatre. Regional: Othello in Othello the Remix (Chicago Shakespeare Theatre-Edinburgh, UK); Astolfo in Life is a Dream (California Shakespeare Theatre); Eddie Fisker in Ctrl+Alt+Delete (Pennsylvania Centre Stage). TV: The Odd Couple, Tosh.0, Tabloids, Hollywood 911, and Relationship Goals. Film: Radioflash, The Untimely Concurrence (Best Actor-MIFF), Booze Boys & Brownies.
EDUCATION: BFA, Performance–University of Miami and MFA, Penn State University
amir-abdullah.com