Erika Soto,Resident Artist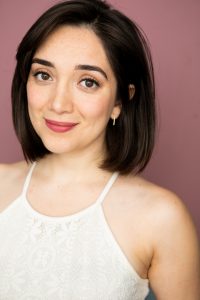 WITH A NOISE WITHIN:
2019-2020 Season: Alice, Alice in Wonderland; Elizabeth/Female Creature, Frankenstein; Shelly u/s, Buried Child
Previous Seasons: Poppy Norton-Taylor, Noises Off '18-'19; Laura Wingfield, The Glass Menagerie; Katherine/Boy, Henry V; Vivie Warren, Mrs. Warren's Profession; Cordelia, King Lear; Thomasina Coverly, Arcadia; Dolly Clandon, You Never Can Tell.
ELSEWHERE: Boston Court Pasadena: Jessica, Everything That Never Happened. Independent Shakespeare Co.: Julia, The Two Gentlemen of Verona; Miranda, The Tempest; Juliet, Romeo and Juliet; Bianca, The Taming of the Shrew; Constance Neville, She Stoops to Conquer; Mopsa, The Winter's Tale; Mary Moore, Red Barn (Premiere); Ingenue, Strange Eventful History (Premiere).
TV: Vida (STARZ).
EDUCATION:University of Southern California, School of Dramatic Arts, B.A. British American Drama Academy, London, UK.
---
More about Erika on our Blog:
Introducing: Kasey and Erika, our newest RA's
Asked and Answered: Arcadia
Meet the Characters: Arcadia
In the Media:
5 Questions For ERIKA SOTO of ANW's Mrs. Warren's Profession, Better Lemons