Online Learning
Available for adults and youth!
Adults and youth can now take virtual classes from one of the country's most respected repertory theatres.
---
ADULT CLASSES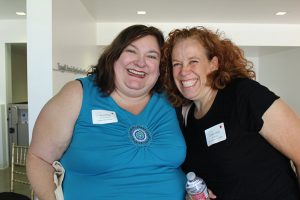 Whether you're just getting your start or are a seasoned veteran of the stage, our online classes and workshops will help you gain confidence in the crafts of acting, auditioning, improv, and more.
VOICE:
with Mark Kopitzke
A 6-session class where you will explore breathing, vocal technique, and acting intention in order to ring the rafters with your rich, articulate, and expressive voice! Participants will use pitch, rhythm, rate, and tone to enhance your understanding of the text and convey meaning. This class (for all levels) will help your voice sound more powerful as you become become more confident in your vocal capabilities. $190 Mondays from 7p-8:30p (May 4, 11, 18, June 1, 8, 15)
IMPROV:
with Aubrey Saverino
A fun and exciting introduction to the art of improv comedy that covers basic scene work, concepts, and vocabulary, such as "Yes, and", listening, acceptance, and character. Through acting exercises and theatrical games in the style of Viola Spolin, students will learn improv fundamentals, create ensemble, hone creative energies, make new friends and laugh a lot too! No previous experience is needed. Promises to inspire and challenge every participant to help them develop a love and appreciation of improv and how they can continue to use those skills in other facets of acting. $190 Tuesdays from 7p-8:30p (May 5, 12, 19, 26, June 2, 9)
SCANSION:
with Jeremy Rabb
Many times, when an actor reads Shakespeare, it can seem like a foreign language. In these sessions, you will learn the fundamentals of working with classical text by participating in "table-work," putting the knowledge to use as you navigate the landscape of word, image, idea, thought, and story, both individually and in groups. The command over poetry of verse will aid you as you examine and perform sonnets, rhetoric, monologues, and scene, turning meaning to action.This four session intensive is
$150 Mondays from 7p-8:00p (May 4, 11, 18, June 1)
MONOLOGUE INTENSIVE:
with Aubrey Saverino
In this class, we will learn how to deconstruct monologues, how to rehearse them and how to get them ready for the audition room. We will identify and explore what kinds of monologues are best suited particularly for you and you will leave with 2 contrasting monologues that are appropriate and prepared. We will integrate text work, voice, and movement as we explore ways to unlock the emotional and intellectual content inherent in good monologues, creating a direct relationship between actor and text. We will also touch on the difference between using your monologues for theatre vs. film auditions. Note that enrollment caps at 8 participants. $220 Wednesdays from 7p-9p (May 6, 13, 20, 27, June 3, 10, 17, 24)
PRIVATE COACHING:
One-on-one sessions working on what you would like to work on. Contact us for scheduling and pricing.
---
YOUTH CLASSES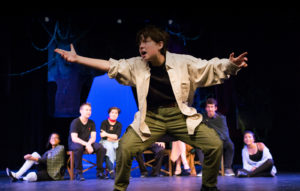 For eager students ages 9-18, our classes fuel creativity and reinforce the tools to help all skill levels improve and develop their craft.
TEEN MONOLOGUE INTENSIVE (ages 14-18):
with Jessica Winward
For the teenage thespian who is ready to delve deeper into their theatrical training, this Monologue Intensive is a conservatory-style training course designed to prepare students for the application and audition process for top university drama programs and beyond! In addition to learning acting techniques from professional artists at California's most respected repertory theatre, students will have the opportunity to pick, learn, and hone monologues that will prepare them to tackle any audition. $220 Tuesdays and Thursdays from 4p-6p (May 5, 7, 12, 14, 19, 21, 26, 28)
DOWN THE RABBIT HOLE (ages 9-12):
with Rachael McNamara
This 8-session workshop is designed to give young actors the tools needed to generate authentic connections to dramatic text (Alice in Wonderland), and to create believable and emotionally rich characters. This course will cover the basic foundations of acting, including given circumstances, objectives, sense memory and recall, and how to effectively use improvisation and pantomime. At the end of the eight weeks, there will be a virtual performance of Alice in Wonderland for friends and family. $220 Mondays and Wednesdays 3p-5p (May 4, 6, 11, 13, 18, 20, 25, 27)
WHAT FOOLS THESE MORTALS BE! (ages 9-12):
with Jessica Winward
For the budding performer, this class will focus on developing scenes from a Shakespearean play (A Midsummer Night's Dream!) This class harnesses the students' innovation and creativity while simultaneously familiarizing them with Shakespeare's texts. Participants will learn classical acting fundamentals and how to apply them to the text. Over the course of 8 sessions, we will cover basic textual analysis (including scansion), voice and improvisation techniques, character development, ensemble building, and acting technique. We will examine Shakespeare's work through the exploration of specific scenes from Midsummer and utilize the language to tell the story. This course will culminate in an exciting virtual performance for family and friends. $220 Tuesdays and Thursdays 2p-4p (May 5, 7, 12, 14, 19, 21, 26, 28)
MIDSUMMER NIGHTS DREAM PERFORMANCE INTENSIVE (ages 13-17):
with Jessica Winward
Challenge your young actor's Shakespearean performance chops in this focused course with professional-level theatre training. This intensive culminates in a 30-minute virtual performance of Midsummer Nights Dream. With a focus on the art of storytelling, we will challege our young performers to think more deeply about themselves, society, and the world around them. Students will learn techniques that help them convey story with their bodies, voices, and imaginations, while gaining a deeper appreciation for the power of theatre. Some questions we will ask ourselves over the eight sessions include: "What are tactics?" "How do we convey meaning and intention non-verbally/physically?" How can we harness the power of Shakespeare's language?" $220 Mondays and Wednesdays 3p-5p (May 4, 6, 11, 13, 18, 20, 25, 27)
PRIVATE COACHING:
One-on-one sessions working on what you would like to work on. Contact us for scheduling and pricing.
---
Interested in learning more?
Contact the Education Department
Header photo by Brian Feinzimer.
Adult classes photo by Anna Rodil.